GOIL, the country's biggest indigenous Oil Marketing Company has changed its name from GOIL Company Limited to GOIL PLC.
According to a statement issued by the company recently, "The name change is in compliance with provisions of the Companies Act 2019 (Act 992) section 21 (b) which directs that all companies limited by shares must have the words 'Public Limited Company' or the abbreviation 'PLC' to their registered names."
"The public is also hereby notified that the said name change shall not affect GOIL PLC's operations, agreements, documents, products, and services that bear that Company's old name shall remain valid," it added.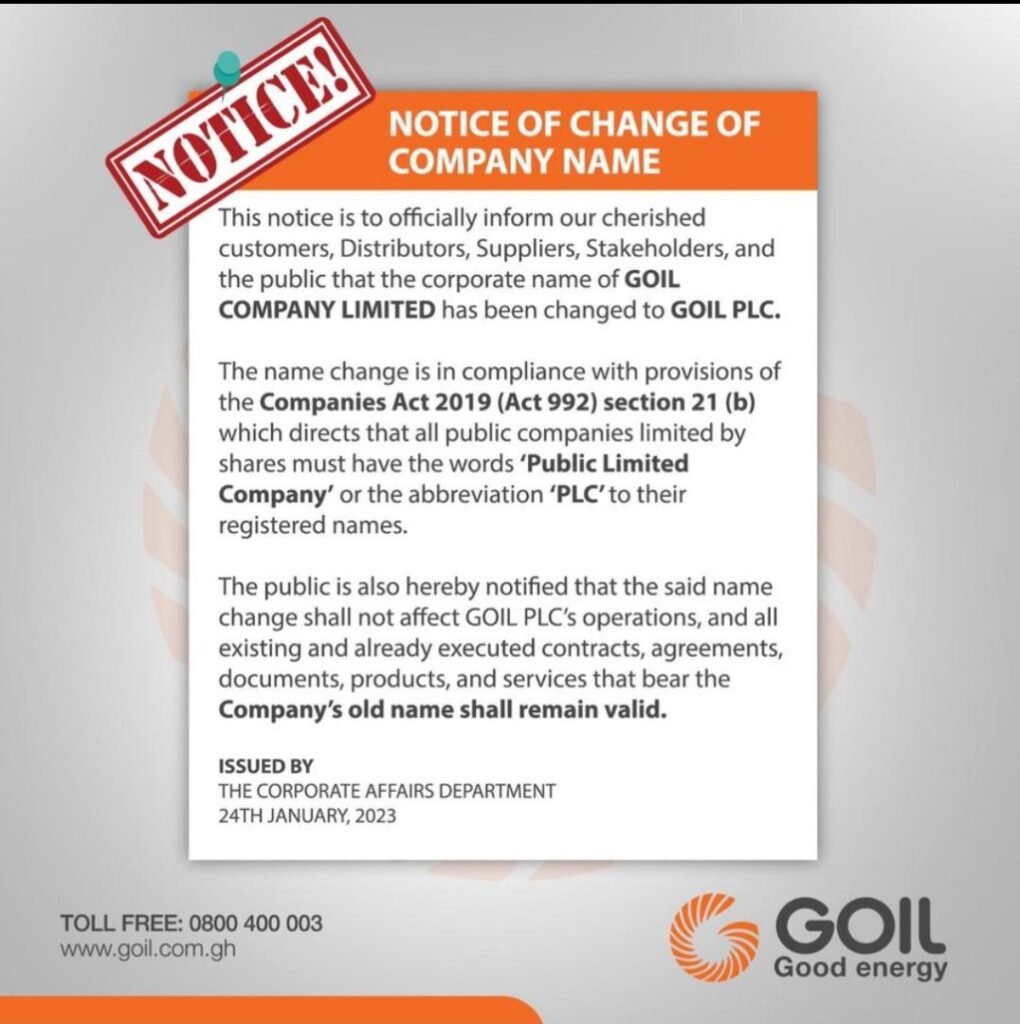 Founded in 1960, GOIL began as a private enterprise named AGIP Ghana Company Limited, with major shareholders GIP SPA of Italy and SNAM S.P.A. It was initially founded as a company that would produce fossil fuel products such as fuel, propane and butane, asphalt, and lubricants. In 1968 SNAM S.P.A. transferred its shares to Hydrocarbons International Holdings.
In 1976, the name was changed from AGIP Ghana Company Limited to Ghana Oil Company.
Ownership
In 1974 Ghana bought AGIP SPA's and Hydrocarbons International Holdings' shares. In 2007, GOIL's board approved becoming a public company, making the company a state-owned enterprise (SOE). The state currently owns 51% of GOIL's shares. These shares are held through Social Security and National Insurance Trust (SSNIT), an agency charged with Ghana's pension system. The SSNIT holds these shares because it has an interest in major aspects of Ghana's economy and because it needs sectors to do well in order to insure pensions.
2010-2012 Rebranding
Due to deregulation efforts in 2005 among downstream petroleum companies, GOIL began to lose its market dominance. In order to address the revenue losses from increased competition, the company embarked on a rebranding strategy that included a new logo and a new slogan of "energy with a smile." The new logo is meant to represent movement, energy, life, and growth. They also completed ISO certification, giving both customers and shareholders more confidence in GOIL's products. More service stations were added as part of the initiative. Efforts are still being made to further improve customer satisfaction, and increase shareholder value. The rebranding has overall been considered successful, and has kept GOIL as the country's top petroleum marketer.