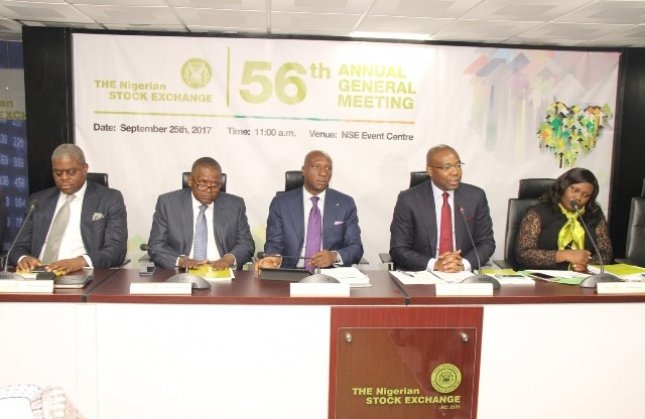 The Nigerian Stock Exchange (NSE) is pleased to announce that it held the 56th Annual General Meeting (AGM) of its members on Monday, September 25, 2017, at the NSE Event Centre, Lagos. During the AGM, the Financial Statements of The Exchange as at 31 December 2016 and the reports of National Council and Auditors were presented to the members as part of the Ordinary Business of the day.
Members of the Exchange re-elected Mr. Abimbola Ogunbanjo who retired by rotation, as a member of the National Council. The members also elected Chartwell Securities Limited (Represented by Mr. Oluwole Adeosun); Equity Capital Solutions Limited (Represented by Mr. Kamarudeen Oladosu); Fortress Capital Limited (Represented by Mr. Yomi Adeyemi); Pilot Securities Limited (Represented by Mr. Seyi Osunkeye); Planet Capital Limited (Represented by Mr. Chidi Agbapu); Woodland Capital Markets Plc (Represented by Mr. Patrick Ajayi); Katsina State Investment & Property Development Co. Limited (Represented by Mrs. Fatimah Bintah Bello–Ismail); Mrs. Catherine Nwakaego Echeozo and Erelu Angela Adebayo as members of the National Council.
Speaking at the Annual General Meeting, the President of the National Council of the NSE, Mr. Aigboje Aig-Imoukhuede, CON, stated that "despite the economic headwinds in 2016, the Group level of the NSE remained profitable with an operating surplus of N27.45 million. The Exchange generated revenues of N4.46 billion, down 31% from the previous year, reflecting bearish sentiments prevalent in the market in 2016".
Mr. Aig-Imoukhuede commended the Council and Management of the Exchange for their cost containment efforts and their diligent approach to budgeting which saw total expenses decline by 12% year-on-year without affecting The Exchange's high operating standards and service quality.
According to the Chief Executive Officer of NSE, Mr. Oscar N. Onyema, OON, the NSE demonstrated resilience through the economic and market downturn as investors reacted to prolonged macro-economic uncertainty. "As at December 31 2016, the NSE's total assets stood at N22.79billion, with approximately N9.73billion (43%) held in liquid assets and an accumulated fund of N19.31billion, to close the year with a sound liquidity position and strong balance sheet".
"The Exchange has delivered strong and broad-based results which strengthen our foundation for long-term prosperity, and will drive growth in the near-term. We will continue to adapt to stakeholder needs in the evolving business climate, developing innovative and diverse products that perform well in different market conditions, while maintaining a regulatory framework that engenders confident investors", Mr. Onyema added.